WHAT MAKES ZEAL TECHNICAL INSTITUTE DIFFERENT?
Over the past decade, Zeal Technical Institute has managed to help over 50% of Spanish speaking graduates obtain employment in healthcare that accumulated to 1.5 million dollars in income, created partnerships that provided over $475,000 in grants and assisted over 5,000 graduates in the state of Florida.
WHAT ARE THE PROGRAMS OFFERED AT ZEAL TECHNICAL INSTITUTE?
NEW PROGRAMS:
Mental Health Technician
Medical Assistant
Medical Administrative Assistant
Cardiac Monitor Technician (PREP CLASS)
PROGRAMS:
Home Health Aide
Phlebotomy Technician
Patient Care Technician
PREP CLASSES:
Certified Nursing Assistant (CNA)
Phlebotomy Workshop
Electrocardiogram (EKG)
Certified Medical Assistant (CMA)
SPANISH CLASSES:
Certified Nursing Assistant (CNA Prep Class)
Home Health Aide (HHA)
Apply now, here.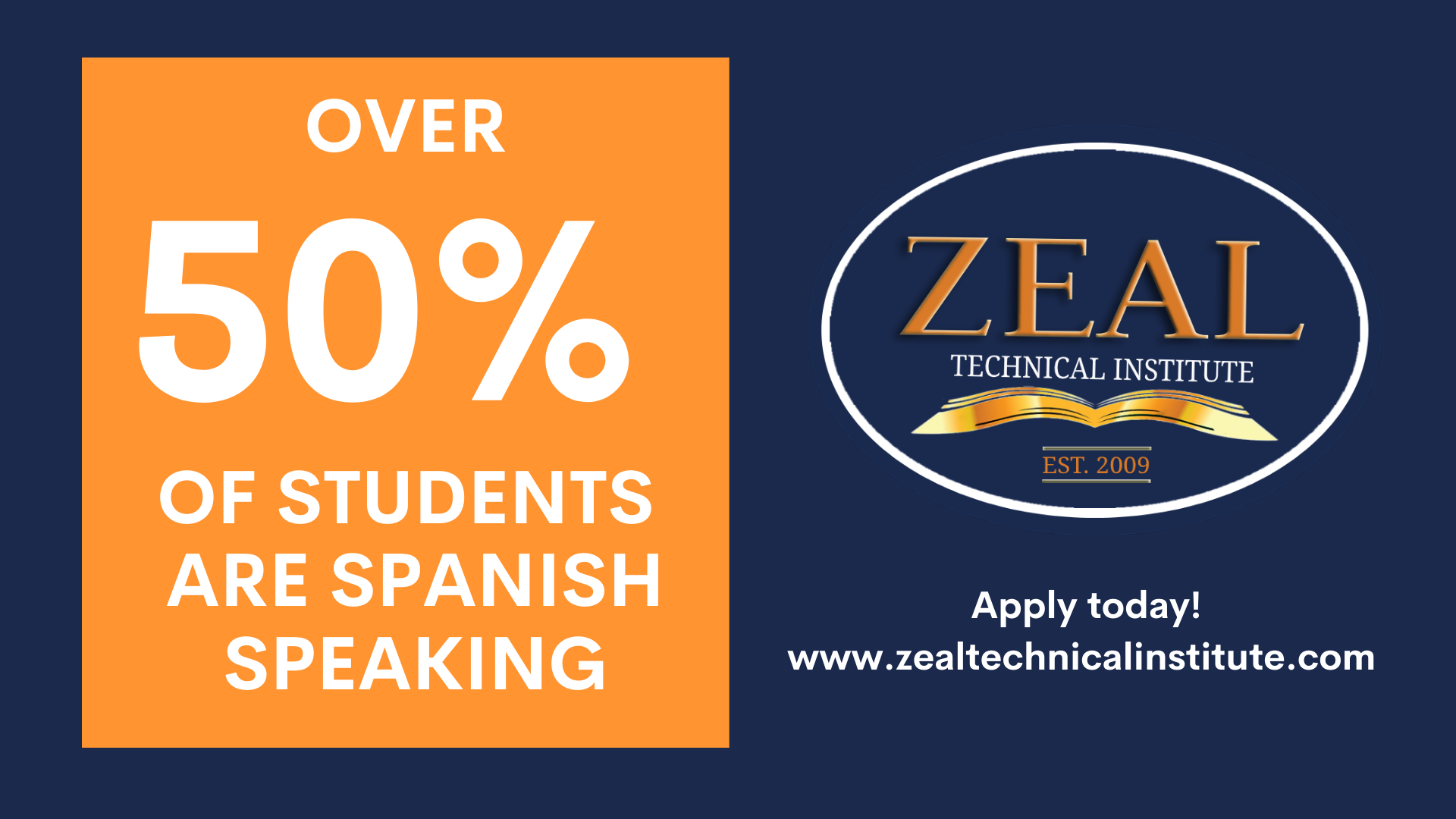 HOW CAN PROSPECTIVE STUDENTS APPLY?
Call our admissions office today to set up an appointment: (239)214-0717
Apply today by clicking the link below: https://forms.zohopublic.com/zohodocs90/form/CourseApplicationForm/formperma/3_h_09_307JF7Ba63bh733M63
Request an online meeting by clicking the link here: https://zealtechnicalinstitute.zohobookings.com/#/customer/zealtechnicalinstitute
IS THERE FINANCIAL ASSISTANCE AVAILABLE?
What to know:
There is no scholarship for the prep classes.
Instant Scholarships must be used towards a program within 60 days.
Scholarships are free, but students must sign an agreement accepting the scholarship terms.
Scholarships can be forfeited due to violation of the school's policies (for example, attendance and failure of remaining tuition payment).
Depending on the circumstances, you may be responsible to repay the scholarship if you drop out or cancel out of a program. Otherwise, the scholarship is free.
Single Parents Scholarship – $500 (All programs listed above) – https://fs3.formsite.com/k7tO7n/yw9bvhfgpn/index.html
DACA Scholarship- $500 (All programs listed above) – https://fs3.formsite.com/k7tO7n/mudtsimusc/index.html
Florida Resident Scholarship- $1,500 (apply to Medical Assistant and Medical Administrative Assistant only) – https://fs3.formsite.com/k7tO7n/uycrxxrl4p/index.html

HOW IS THE STUDENT DIVERSITY AT ZEAL?
Zeal Technical Institute is an equal opportunity institution. We will not discriminate and will take affirmative action measures to ensure against discrimination in enrollment for career programs, employment, recruitment, advertisements for employment, compensation, termination, upgrading, promotions, and other conditions of employment against any employee or job applicant on the bases of race, color, gender, national origin, age, religion, creed, disability, veteran's status, sexual orientation, gender identity or gender expression
#healthcareeducation #healthcare #education